The John Lewis Partnership has teamed up with Action for Children, aiming to make a lasting difference to young people in care across the UK. This year's Christmas advert adopts a refreshingly new style for the company's traditional festive campaign. Their commercial, titled 'The Beginner', introduces Ellie who represents one of 108,000 children in the UK care system. Sad faced, she arrives at her foster home just prior to Christmas Day where she is warmly greeted by her new foster parents. As a first impression she notices a skateboard in the hallway and the cast on her foster father's arm. In fact, he is battered and bruised from repeated attempts to master some fundamental skateboarding moves, a hobby he understands means a lot to Ellie, whose sole possession appears to be a well-loved board.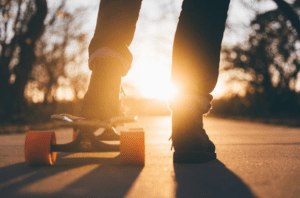 What the advert doesn't reveal is that a young person goes into care in the UK every seventeen minutes. That amounts to approximately 30,000 each year. Moreover, Action for Children, suggests that 60,000 children referred to social services each year were referred the previous year as well but, for a variety of reasons, were not offered any support. For some young people, receiving vital help from the state is a very slow process.
Media impressions of Christmas
Conventionally, the media tend to promote generic impressions of Christmas, with families gathered around a strikingly decorated Christmas tree, opening neatly wrapped presents, heartily eating and drinking fine fare, and generally enjoying a carefree time away from life's more usually hectic routines. Perhaps there are red and green knitted stockings draped over the soft furnishings, a roaring fire with a pet dog stretched out in front of the fireplace, and ornate decorations completing the festive scene. However, for many families and children this impression of Christmas time is a far cry from the harsher reality of 2022. This begs two questions, how many children experience a less than happy Christmas? And, what can we do to make Christmas feel like Christmas, irrespective of material and commercially driven impressions and expectations?
Christmas can be stressful
The answer to the first of these questions is difficult to determine but suffice to say that it is probably rather more than you would imagine. There are several important socio-economic factors which frame individual family contexts. Ironically, for many parents Christmas can prove to be a stressful time. There are deadlines to be met at work, shopping to be bought, meals to be prepared, presents to be organised, cards and messages to be sent, relatives to be visited – sometimes hundreds of miles away – and housework to be completed. Perhaps we can stand aside from the hype for a few minutes to think about what might make a genuinely happy Christmas, especially for children classed as living in poverty. One where materialism does not take centre stage, one where overindulgence is rendered irrelevant, and one where overspending to keep up with expectations doesn't land families in debt. After all, financial stress and hardship are leading causes of anxiety and depression, and the impact of these mental health conditions can deeply affect children.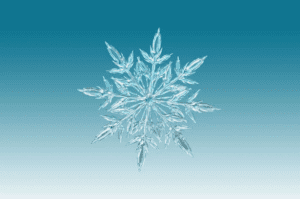 The link between poverty and mental wellbeing
Official figures confirm that child poverty in the UK is increasingly widespread. However, Christmas can prove to be a difficult time and not just because of the financial constraints imposed by hardship. Poverty and mental health issues are indisputably linked. For example, anxiety and depression are more prevalent among young people whose personal circumstances mean that they are eligible for free school meals. Moreover, statistically speaking, children whose families face hardship are less likely to attain good examination grades than their peers. This fact can naturally undermine their self-esteem and prove to be educationally demotivating. Consequently, the festive season with its material expectations is likely to present additional sources of stress to young people who may already feel socially disadvantaged. So, while for a majority of children Christmas can be an exciting and even a magical time of year, for a sizeable minority it might prove to be divisive, isolating, and it can even undermine self-confidence.
Challenges arising from Christmas school holidays
Beyond the financial and material associations of present giving, the school holidays can also become disruptive because daily routines inevitably alter. Most young people do not mind staying in bed later, nor going to bed later. However, a lack of routine can become disruptive and counterproductive. There can appear to be no obvious sense to each day's shape, and some young people may simply drift through the holidays. Others have no choice but to take on huge responsibilities during the school break. For example, there may well be a younger sibling to look after during the day, meaning that the school pupil in question fulfils the role of a young carer. Others may be obliged to look for temporary work to help support their family. Perhaps this transpires to be informally arranged and consequently the experience might transpire to be exploitative. These types of change to everyday life can leave young people vulnerable to all sorts of external pressures and commitments. Moreover, given the short days and prevalently chilly, wet weather, there may be limited opportunities to spend time outside, which can lead to a sense of boredom, frustration, or just feeling pent up.
Domestic abuse can become more prevalent at Christmas time
Moreover, there are additional issues facing many young people during the festive season. For instance, some children live in the shadow cast by domestic violence, which is documented to peak at this time of year. At Christmas people tend to consume more alcoholic drinks than usual, and that fact, alongside financial worries and expectations, can intensify domestic tension leading to increases of violent incidents at home. Children are naturally sensitive to family dynamics and can unwittingly find themselves caught in the middle of parental arguments. These can quickly spiral out of control. If you, or somebody you know, is experiencing domestic violence and associated relationship breakdown, help is available at: www.nationaldomesticviolencehelpline.org.uk.
The most important gift this Christmas
Given these issues and pressures it is remarkable how resilient and positive many young people are when coping with their individual circumstances. We can all make a difference to young people's wellbeing simply by bearing in mind what really matters at this time of the year. I really like Christmas. It can often be a reflective and relaxing time and there are opportunities to spread some happiness and positive sentiments among family and friends. Even in a secular society the idea of a midwinter festival which marks the passing of the shortest days of the year and anticipates a new year, spring time and sunnier days to come, seems instinctively appealing. The festive season does, of course, also offer an opportunity to reconnect with children, as families spend more time together. Lasting, affectionate connections can be rebuilt. Perhaps the most important gift that adults can give a young person is time, alongside sincere attention and love. There is a danger of prioritising a long list of chores which inadvertently side line children.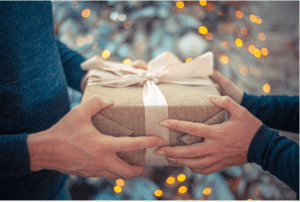 Planning Christmas together
Moreover, planning together for a simple Christmas time avoids the prospect of over-expectation, and enshrines the notion that little things matter a good deal. Young people have been exposed to Christmas advertising since the beginning of October. That commercially led, drawn out anticipation can be concluded in a matter of minutes as presents are hurriedly opened. Perhaps Christmas could be approached in a more measured manner, wound down gently, and lasting memories could be formed by establishing new family traditions. For instance, something as simple as a walk to look at the festive lights, or a game of charades, or reading excerpts of a traditional story, like some short passages from Charles Dickens' Christmas Carol.
Making a difference at Christmas
Given that young people learn from what the adults around them do, it ought to be possible to demonstrate what really matters. For example, volunteering for a couple of hours may prove to be affirming and inspiring for a young person, engendering a broader sense of perspective. Or, where possible, planning a small donation to a charity together. For example, Barnardo's Christmas appeal aims to tackle child poverty by providing food, warm clothes, bedding, and generally spreading a sense of Christmas spirit. Contributing in ways like these could help to offer young people a life changing gift that will empower them to navigate through the material associations of the festive season and nurture an appreciation of thinking about others, no matter what their own circumstances.