What does childhood look like?
Children cannot always contribute and say what they want: what is right for one may not be right for another.  Urban child poverty is a global issue.  Ensure a brighter future for children requires more action now.  Eradicating extreme poverty is a global concern.  There will be a perpetual downward spiral unless the bar is raised higher.  Many charities, organisations and community groups are already making great improvements.  However, to overhaul the system governments must also cooperate.  Social funds would reduce reliance on a child's income.  Improved access to education and building safe environments for play would ensure the next generation of adults are more economically active.
Urban child poverty and labour
In 2016, the International Labour Office (ILO) estimated 152 million children were labourers. Almost half were working in hazardous conditions.[1]
Since 2000, the mission to decrease child labour was proving effective.  But the economic stresses of the pandemic began to reverse some of this good work.  In 2021, an estimated 160 million children were labourers.[2]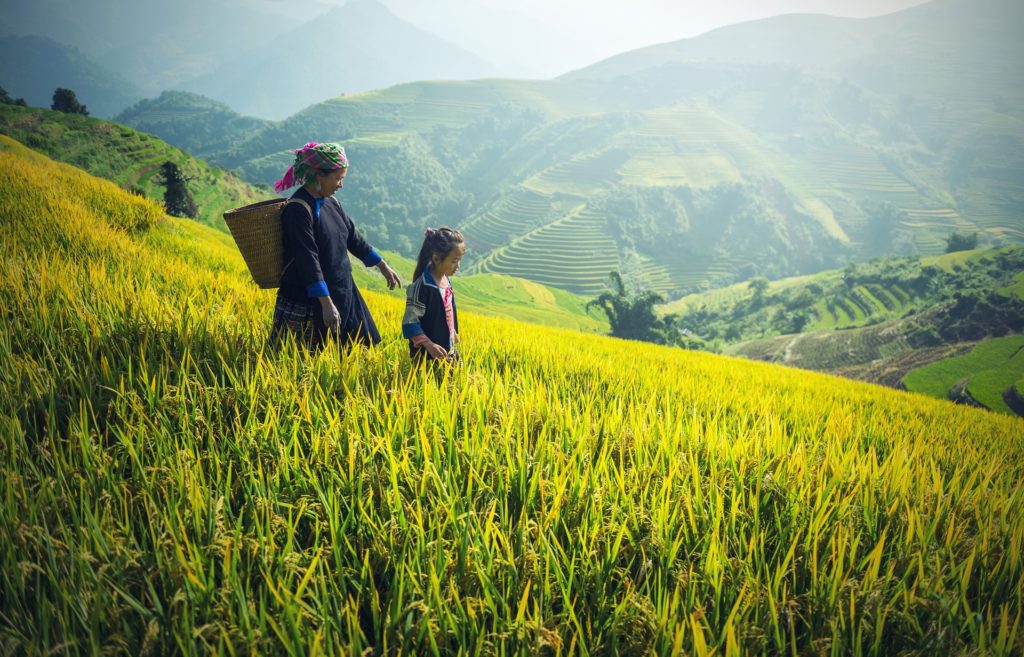 Pixabay – Sasin Tipchai
Agriculture is the most common type of work for children to be engaged in.  Rural areas have three times more child labourers than urban areas.[3]
However, that doesn't mean the number of working urban children is low.  Families can be large, with 4 or more children.  The older ones are often enlisted into family businesses – weaving, selling flowers or selling food in the streets.  Some end up begging.  Or scavenging through waste for leftovers.  Others are preyed upon by sexual predators and traffickers, coerced into activities that will cause them nothing but misery and suffering.[4][5]
Improvements are necessary
This is not sustainable.  ILO and UNICEF have set out a list of changes essential for the future health of a neglected population.  There's a dire need for social protection, including universal access to child benefits.  Schools must be free and inclusive.  Employment and education opportunities for adults need to be improved, so that they stop depending on the income of children.  Child protection systems and infrastructure is necessary to support the young.  Spending money on improvements now, will reap benefits in the future.[6]
Recognition of the changes needed and campaigning for them is only part of what it takes for change to occur.  A huge cultural shift is needed.   Focus should be placed on nurturing a child's potential through education, play, and sport – rather than exploiting them.
As long as there are people and organisations willing to support the development of young people – to advocate and show them they can change their lives and dream big – there is a chance children born into poverty won't have to raise their own children in poverty.  It takes action, courage and consistency from people willing to help and improve the world a little at a time.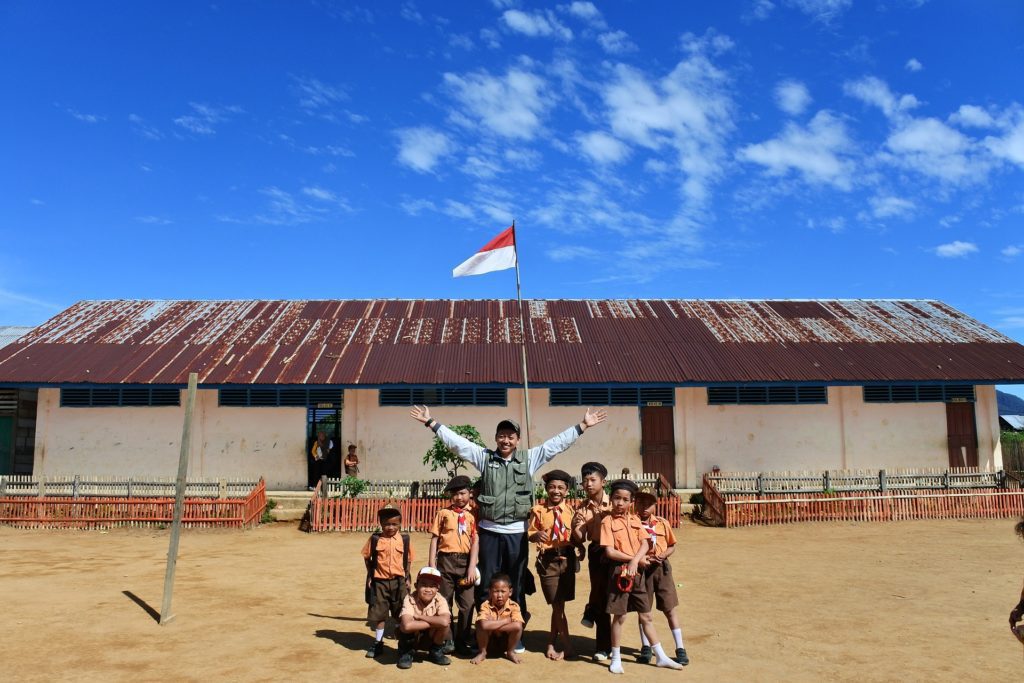 Pixabay – Aditio Tantra Danang Wisnu Wardhana
Combatting urban child poverty through education
Education is nice to have but not always achievable.  Some families may depend on their children to supplement the family's income by taking on employment themselves.  A lot of the work available to informal settlement and slum residents is precarious.  Contracts run out, and competition is high.  And yet, rent must be paid, food must be paid, electricity must be paid.  After providing the necessities, additional costs for school fees, books and uniforms become a burden.[7]
There are support services available to help struggling families.  But, accessing them can be difficult or conditional, and that's only if people even know about them.  Groups like Street Child can assist families in meeting with support teams.[8] Meeting the conditions for assistance can be daunting.  Families living in informal settlements struggle to complete application forms: their addresses are not officially recognised.
Child centred learning
Fairplay For All Foundation in Payatas is a group that aims to improve the lives of local children by giving them the opportunities they need to thrive.
"We believe in child-centered(sic) learning; students learn at their own pace, have a say in how the school is run, in what lessons they take, and in how they shape their future."[9]
Allowing children some say in their education gives them experience in making decisions, promotes inclusion and encourages them to keep at it.  Urban child poverty doesn't have to be a foregone conclusion.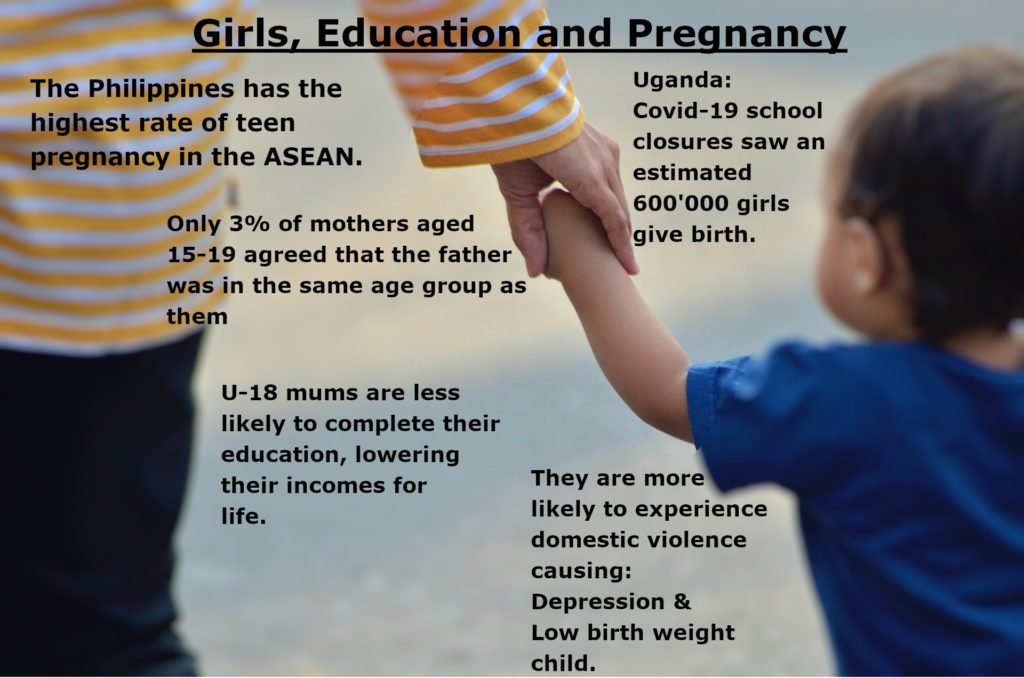 Pixabay – Ratna Fitry [10][11]
The United Nations Population Fund (UNFPA) has recognised an urgent need to improve sex education for young people and provide services to combat economic hardships faced due to teenage pregnancy.  They aim to influence policy making: to improve education and employment opportunities, to increase access to contraception and to provide support for families.[12]
The poverty cycle will continue like this unless there is a fundamental change in how children are valued.  Formal education can increase individual earning potential, standards of living, and GDP but it's not the only aspect of childhood education to consider.  Learning through play helps a child develop emotionally and socially as well as encourage confidence and self-belief.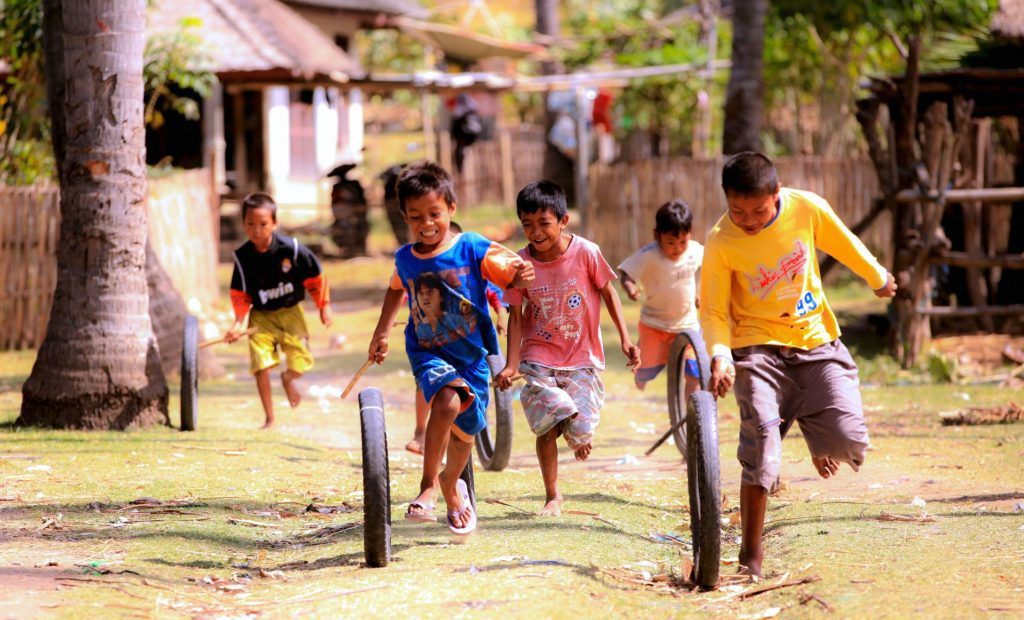 Pixabay – Joseph Samson
Importance of play for developing children
Playing, and learning through play, is vital for the development of a child. It provides opportunities to: develop social skills; combat stress and poor mental health; practice calculating risk safely and experience a sense of self-worth.  In a living environment that is often full of danger, stress and a cycle of low self-image, it is extremely important to give children the opportunity to see themselves positively.  A child who knows nothing of self-improvement – and the great feeling of accomplishment – will be unlikely to seek those feelings as adults, or encourage their own children to pursue them.
According to 2019 data, less than half of the world's population has access to open public space within 400m of their home.  Just over a quarter of people in Eastern and Southeastern Asia have this luxury.[13]
This demonstrates that a very small number of children in urban areas can play safely in nature.  The majority of children (if they even have the time) play in alleyways or must complete long, unsafe journeys to reach a park.  In addition, entrance fees are often charged.
Playing for health
"Poverty itself can negatively affect how the body and mind develop, and economic hardship can actually alter the fundamental structure of the child's brain."[14]
Playing in a safe environment allows children the opportunity to forget, however briefly, some of the problems they live with.  Stress is extremely detrimental to growing bodies and toxic to brain chemistry.
Being exposed to a wide variety of extremely stressful situations is a lot for young minds to take on.  That's why the work of local community groups is extremely important – to give children with nowhere else to turn, an opportunity to make the most of their early lives.
Fairplay for All (Payatas, Philippines)
The Fairplay for All Foundation in Payatas, Philippines works with local children assisting with  education as well as providing safe spaces to play. Giving children a challenge and an opportunity to grow is vitally important.  Allowing them the chance to hope, a chance to achieve self-worth makes all the difference.
Loren
During the early days of Covid-19, the children started a newsletter to occupy their time.  Loren (17) wrote an article:
"When I was younger, I didn't really understand the importance of nature and why we should take care of it. I have only known the world which I grew up in, a place where there's trash everywhere and no scenic views in sight". Because Payatas' informal settlement was built in a rubbish dump, the locals understand the importance of recycling – it is how they have survived.  As Loren notes: "..people here are more aware of how their garbage should be handled and don't just throw things that can still be reused or recycled."
Children are the next generation of leaders: given the opportunity and some confidence they can make their communities – the world – a better place.[15]
Cars before children
As cities grow and urban areas expand, very little thought has been given to youth.  Playparks are forgotten, green spaces transform into roads, and all the safety is yanked out of a young person's day.
Work is ongoing across the world to undo the bad habit of favouring of cars over children. Charitable organisations continue to press the issue.  In addition, they highlight the need to plan child-friendly space in balance with economic needs.  Yes, adults do need to drive to work: but children also need a slice of nature preserved for a chance at physical and mental health.[16]
Mental and physical health effects of urban child poverty
The chronic stress of living in impoverished and unhealthy conditions can overwhelm a child's stress response systems, causing what has been referred to as "toxic stress."[17]
Children and adults who live in poor neighbourhoods are likely to experience mental health problems, as well as physical problems.  Poverty and a shorter life expectancy almost go hand in hand.  Furthermore, they are at risk from malnutrition, chronic illness, exposure to pollutants, food insecurity, violence and crime.[18]
Each of these factors inhibits a child's development.  Outside help is often needed to break the cycle.  Organisations such as Fairplay are essential for giving the young a safe environment to enjoy their childhood, away from the stigma and stress of urban child poverty.
Risks of overcrowding in urban areas
There are inherent risks in growing up in overcrowded urban areas.  Informal settlements are often without hygienic waste disposal and are navigated by a series of alleyways where this waste gathers.  Children are exposed to all kinds of illness, physical injury and even death in these areas.[19]
As populations expand, informal settlements expand along with them.  It has been estimated that 2 billion people have little access to sanitation.  In Kenya alone, estimates say around 1-2% of GDP is lost because of insufficient hygiene controls.[20]
In a world contending with Covid-19, it seems unthinkable that so many people don't have clean water to wash their hands.  They can't hydrate without risking their health.  Their immune systems are assaulted daily, and for the emerging immune systems of children, this assault can be overpowering.
As well as illnesses brought on by a combination of inadequate nutrition and sanitation, overcrowding increases the risk of burns, falls, heatstroke and road traffic accidents.[21]
Children depend on adults for help
There are many reasons why a child must look after themselves.  Some are orphans and some parents work long hours.  Some are street children, separated from their families.  Without healthy supervision and guidance, children won't spot potential dangers or be fully aware of their surroundings.  They depend on adults to teach them.  The pressures of poverty mean that, unfortunately, children are neglected because there is no other choice.
Therefore, they must make their way in a world that hasn't considered their perspective.  Urban areas are expanding fast, cobbled together without much planning.  There's a lack of speed limits on roads, lack of walkable pavements, lack of easily accessible shops and an explosive increase in the number of road users.  Combined, these create a frightening scenario for young children.[22]
There are many positive changes taking place to improve the lives of young people affected by urban child poverty but the issues are so widespread that more, as always, must be done.  Covid-19 has eroded gained ground and change is precarious.  How many families would prefer their child to work in hazardous conditions over living their best life? Unfortunately, the needs of today are far more pressing than the ideals of tomorrow
Footnotes
International Labour Office (ILO) "Global Estimates of Child Labour: Results and Trends 2012-2016 Executive Summary"; Available at https://www.ilo.org/wcmsp5/groups/public/@dgreports/@dcomm/documents/publication/wcms_575541.pdf (accessed: 30/03/2022)
ILO "Child Labour Rises to 160 Million – First Increase in Two Decades" 10/06/2021; Available at https://www.ilo.org/global/about-the-ilo/newsroom/news/WCMS_800090/lang–en/index.htm#:~:text=GENEVA%20(ILO%20News)%20%E2%80%93%20The,Organization%20(ILO)%20and%20UNICEF (accessed: 30/03/2022)
Ibid.
ChildHope Philippines "A Closer Look At Child Labor in the Philippines" 08/06/2021; Available at https://childhope.org.ph/child-labor-in-the-philippines/ (Accessed 30/03/2022)
Halliday, J "Former Radio 1 DJ Mark Page Jailed Over Philippines Child Sexual Offenses" 10/03/2022; Available at https://www.theguardian.com/uk-news/2022/mar/10/former-radio-1-dj-mark-page-jailed-for-child-sex-offences-in-philippines#:~:text=A%20former%20BBC%20Radio%201,their%20poverty%2C%20the%20judge%20said (Accessed 30/03/2022)
ILO "Child Labour Rises to 160 Million – First Increase in Two Decades" 10/06/2021; Available at https://www.ilo.org/global/about-the-ilo/newsroom/news/WCMS_800090/lang–en/index.htm#:~:text=GENEVA%20(ILO%20News)%20%E2%80%93%20The,Organization%20(ILO)%20and%20UNICEF (accessed: 30/03/2022)
Children of the Mekong; Available at https://www.childrenofthemekong.org/asia-children-sponsorships/give-hope-to-children-living-in-slums-in-the-philippines/ (Accessed 30/03/2022)
Street Child "125 Million Children Around The World Cannot Go To School. We're Working To Change That"; Available at https://www.street-child.ch/our-actions (Accessed 30/03/2022)
Fairplay For All Foundation; Available at https://fairplayph.wordpress.com/programs/#youthcenter (Accessed 30/03/2022)
United Nations Population Fund "Eliminating Teenage Pregnancy in the Philippines" Jan 2020; Available at https://philippines.unfpa.org/sites/default/files/pub-pdf/UNFPA_Policy_Brief_Teenage_Pregnancy_%282020-01-24%29.pdf (Accessed 30/03/2022)
The Independent "Uganda's Teenage Pregnancies Five Times Higher Than Covid-19 Positive Cases" 05/12/2021; Available at https://www.independent.co.ug/ugandas-teenage-pregnancies-five-times-higher-than-covid-19-positive-cases/ (Accessed 30/03/2022)
United Nations Population Fund "Eliminating Teenage Pregnancy in the Philippines" Jan 2020, Page 4-5; Available at https://philippines.unfpa.org/sites/default/files/pub-pdf/UNFPA_Policy_Brief_Teenage_Pregnancy_%282020-01-24%29.pdf (Accessed 30/03/2022)
United Nations Statistics Division "The Sustainable Development Goals Report 2020", Page 47; Available at https://unstats.un.org/sdgs/report/2020/The-Sustainable-Development-Goals-Report-2020.pdf (Accessed 30/03/2022)
Children's Bureau "Children In Poverty – Poverty and its Effects on Children" 28/01/2019; Available at https://www.all4kids.org/news/blog/poverty-and-its-effects-on-children/ (Accessed 30/03/2022)
Loren "A World For Our Children" 04/08/2020, "The Payatas Paper" No.12; available at https://fairplayph.files.wordpress.com/2020/08/the-payatas-paper-issue-12-english.pdf (Accessed 30/03/2022)
Cities4Children "Conversations: How Can We Improve Children's Experience of the Urban Environment" 01/03/2022; Available at https://cities4children.org/blog/conversations-how-can-we-improve-childrens-experience-of-the-urban-environment/ (Accessed 30/03/2022)
Francis, L., DePriest, K., Wilson, M., Gross, D., (September 30, 2018) "Child Poverty, Toxic Stress, and Social Determinants of Health: Screening and Care Coordination " OJIN: The Online Journal of Issues in Nursing Vol. 23, No. 3, Manuscript 2; Available at https://ojin.nursingworld.org/MainMenuCategories/ANAMarketplace/ANAPeriodicals/OJIN/TableofContents/Vol-23-2018/No3-Sept-2018/Child-Poverty-Toxic-Stress-SDOH-Screening-Care.html (Accessed 30/03/2022)
Children's Bureau "Children In Poverty – Poverty and its Effects on Children" 28/01/2019; Available at https://www.all4kids.org/news/blog/poverty-and-its-effects-on-children/ (Accessed 30/03/2022)
Mathur, Aditya et al. "Unintentional Childhood Injuries in Urban and Rural Ujjain, India: A Community-Based Survey." Children (Basel, Switzerland) vol. 5,2 23. 8 Feb. 2018, doi:10.3390/children5020023; Available at https://www.ncbi.nlm.nih.gov/pmc/articles/PMC5835992/ (Accessed 30/03/2022)
CDC Investment Works "The Sanitation Business Leaving Nothing To Waste"; Available at https://www.cdcgroup.com/en/story/the-sanitation-business-leaving-nothing-to-waste/ (Accessed 30/03/2022)
Mathur, Aditya et al. "Unintentional Childhood Injuries in Urban and Rural Ujjain, India: A Community-Based Survey." Children (Basel, Switzerland) vol. 5,2 23. 8 Feb. 2018, doi:10.3390/children5020023; Available at https://www.ncbi.nlm.nih.gov/pmc/articles/PMC5835992/ (Accessed 30/03/2022)
Silverman, A. "Rights of Way: Child Poverty and Road Traffic Injury in the SDGS"; Available at https://www.fiafoundation.org/media/391038/rights-of-way-spreads.pdf (Accessed 30/03/2022)